USER CASE
Robot Butcher Poultry Fillet Batching
01
Reduced giveaway
02
Intelligent selective cutting
03
Cut according to recipe
Automating fillet cutting and packing lines makes for a more economical process
Automated solutions like Marel's "Robot with a knife" allows meat processing facilities to match customer orders for fixed-weight breast fillet retail packs to fillet coming off the deboning line.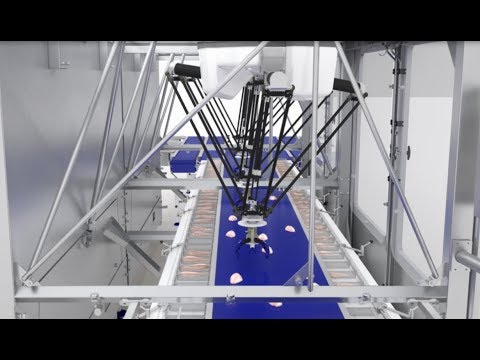 Automating a poultry cutting process increases product utilisation
The process makes it easier to reduce giveaway
Automating a poultry line helps food processing facilities to stay competitive, whilst also increasing the efficiency of the plant. Less produce is wasted and poultry fillets can be cut according t...
Show More
Sources: https://marel.com/products-solutions/intelligent-fillet-batching/?prdct=1&parent=1334