PROTOTYPE
Simultaneously 3D Printing Construction Materials
01
Robots print in unison
02
1.86m printed in 8 minutes
03
6axis allows smooth transition
Client
Overview
Industry Sector
Task
Business Problem
Nanyang Technological University look into a solution to 3D printing structures
A team led by NTU Singapore's Assistant Professor Pham Quang Cuong began looking into a solution to 3D printing building structures with two or more robots at the same time.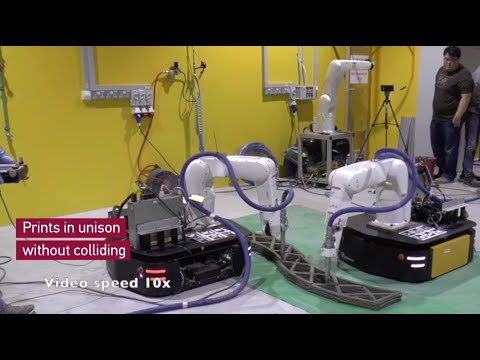 3D printed structures usually suffer from scale problems
Joining two separately constructed pieces weakens the bond strength
Currently, 3D-printed structures suffer from scale problems. It's difficult to print a structure much larger than the printer. Typically, the way around it is to have robots print pieces one after ...
Show More
Sources: https://www.engineering.com/BIM/ArticleID/17779/Robot-Swarm-3D-Prints-Concrete-Structure.aspx